Description
After 5 years of releasing the original Cosmos, we are proud to introduce Cosmos2. Following our technological advancements in paragliding air foil technology, sail tensioning, line- and risers' geometry, we are now able to introduce these amazing improvements into this glider.
The Cosmos2 is even more exciting and fun to fly. A glider with enough performance to fly the world, be it a 200km flight in the flatlands of Australia or big triangles in the Alps – the Cosmos2 can do it all. Offering incredible passive safety and an easy and intuitive rear riser steering for cruising the skies and gliding from one thermal to another, Cosmos2 allows the pilot to focus more on the conditions and less on the glider overhead.
Cosmos2's new air foil is our latest creation. It is a revolutionary air foil as it offers enhancements in performance adding further collapse resistance and pitch stability ultimately translating to a more enjoyable and safer flying experience.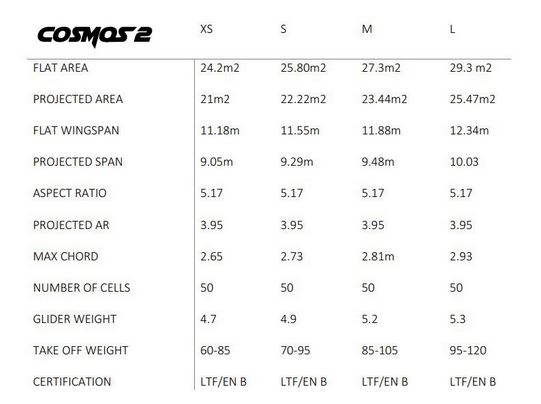 Flow Paragliders an Australian paragliding company specialized in state-of-the-art paragliders and accessories.