Very active days at the Team Kamikazes Paramotor Puerto Rico school. We have been giving Tom Myers an intensive training course, and he is getting close to his first "solo" flight. Also, there was much more to tell, let's go into details…
Wednesday, October 18, 2023…
Finally the wind increased in intensity, that made it easier to the practice of Tom. This time we gave him the chance to practice the paraglider he would use on his first "solo" flight. A reliable 29 meter BGD Wasp. He spent the entire morning practicing with this glider, and the progress is notable. In the afternoon when the wind continued to increase in intensity, and we changed to the training glider again, the 14-meter BGD Seed.
The Pilot Darwin Hernández was present in the morning and testing the fast Apco F1 paraglider of Luis Ruiz, and also Charles Riggs flying his fast Flow RPM Paraglider.
In the afternoon conditions deteriorated and we finished activities to continue tomorrow.
Thursday, October 19, 2023…
With excellent flying conditions, we returned to Villa Pesquera Isabela. We understood that we had the perfect opportunity to take Tom flying for the first time, and so we did.
Charles Riggs was also in the air. After the required instructions and equipment verification, we gave Tom the green light to attempt his first "solo" flight. And as expected, Tom Take Off and made his first fly ever!!!
After a soft landing, his joy was notable. In the coming days we will continue to hone his skills to make him the best Paramotor pilot possible. CONGRATULATIONS!!!
Friday, October 20, 2023…
We returned to Villa Pesquera Isabela again, taking advantage of the excellent weather conditions. This time, however, we found that student Tom Myers had health problems. A stomach virus had attacked him during the night and he was not fit to continue his practices. We postponed these for tomorrow.
However, several pilots were present at the activity. Sammy Badillo, Darwin Hernández, Luis Ruiz and from Italy, a former student of Team Kamikazes, Enrique González, arrived for a surprise visit.
We were all flying in the morning, until the weather conditions deteriorated in the afternoon. Enrique González was leaving tonight to return to Italy, it was a great pleasure to see him back at his Alma Mater.
Photos…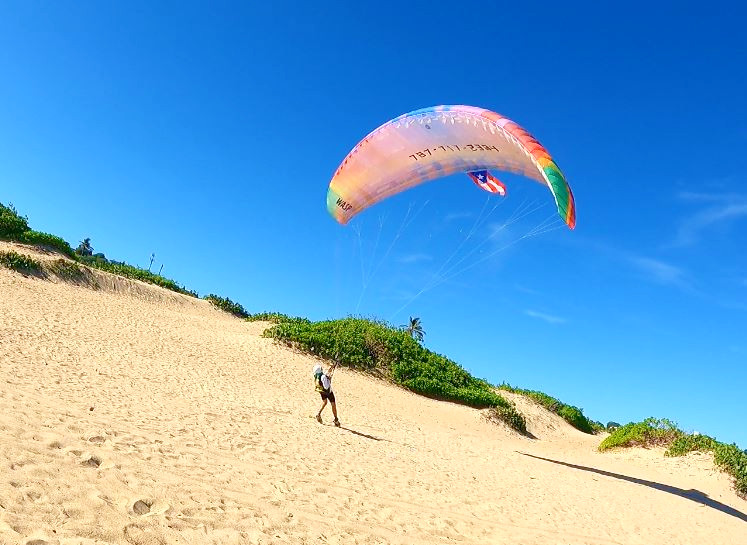 Please follow and like us: