Living with Passion!!!...
The Sky is not the Limit, is just the Beggining...🙂
Go to 👉🏽TRAINING👈🏽
👉🏽TRAINING👈🏽
PROFESSIONALISM, ETHICS AND HONESTY is our North. Give us a chance to prove it and see why we are the right choice for your entry to this fascinating sport and way of Life… We train at your pace. That means you could be flying very soon if you have the attitude.
Go to Live the experience!😜
Live the experience!😜
Don't have any experience?, No problem…, Just Fly accompanied with the Instructor and enjoy the experience, also you could carry your own camera and record your unforgettable moment. Just Call at (787)717-2384 to coordinate it, and in a few days you could have this awesome experience.
Go to Proud sponsors of…
Proud sponsors of…
We just use the BEST equipment for our community of pilots. The BEST prices and Value for the money that you could find. SECOND TO NONE… Check our prices and compare… (787)717-2384.
Go to Our Support… The Girls!🙋‍♂️
Our Support… The Girls!🙋‍♂️
Without them, this adventure could not be possible. They bring, week after week, their support to our pilots and activities. This little space is dedicated to honor their service to bring the best of us. Thanks ❤️!!!!
Team Kamikazes in a Brief...
More obout our School and Passion...
Experience, Passion, Honesty, Quality and Best Value👈
Team Kamikazes Paramotor Puerto Rico. One of the Biggest, Old and most Respected Paramotor schools in USA. We OPEN ALL YEAR! thanks to our excellent Caribbean weather. The school was founded in 2002 and today, eighteen years later, hundreds of pilots have been graduated from it and counting... We develop good techniques in Low and High intensity winds, in the ways of launch and land in different situations. Also, Tandems flights are available to people that just want to Live the Experience... Puerto Rico is a paradise for all paramotor pilots who looks to escape the Cold weather of their Countries. We are also Proud Dealer of the most recognized and reliable brands in the industry. Give a try!!! Let us know, and start a new way of Life 🙂
Training - Hundreds of Students/Pilots and Counting...

Enjoy the Paramotor experience flying accompanied with Instructor

Already a PPG pilot? Come with us in a Paramotor Cross adventure...

The Major Brands in the market!💪
TEAM KAMIKAZES
The ELITE Team...💪💪
Luis Ruiz
CEO Parapentepr.Inc – Instructor USPPGA 1358
Founder of Team Kamikazes CEO of Parapentepr.Inc. Instructor of the Team. Member of Kamikazes ELITE Pilots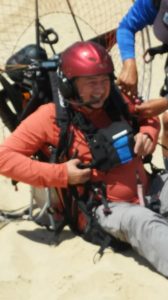 Alex Diaz
ELITE and 3 Stars Pilot – Bayamon, PR
Alex – The word that describe him is PERSEVERANCE. Started his career in May 2018 and step by step have been winning ground to be one of the best pilots in Puerto Rico. Married with Belen who is always support him.
Berto Garcia
ELITE and 5 Stars Pilot – Anasco PR
Berto started his PPG career by April/2010. From this time he has been very active in all our activities. He fly also in Dominican Republic, and have in his record some amazing flights. He also fly Quick Silver Airplanes.
Chey Sanchez
ELITE and 5 Stars Pilot – Anasco PR
One of the Technician of the Team. Good level and ability to fly his paramotor. He is married with Arlene Mendez, who also is very active in the activities of the Team.
David Silva
ELITE and 5 Stars Pilot – Dorado PR
David started in the sport in March/2013. A lovely character that always is in good vibes and is very active in the activities of the Team. He lives in Dorado and is married with Elsie.
Eduardo Pabon
ELITE and 5 Stars Pilot – Barceloneta PR
Eduardo made his debut in the Sport in January 2011. He is married with Esther, both are very actives in the Team activities. Has a record for a fly from Levittown to Juana Diaz in Sept/2012.
Gregory Santiago
ELITE and 5 Stars Pilot – Cayey PR
Gregory made his first "Solo" fly by March/2015. Right now is one of the more skilled pilots of the Team. He help Luis with the Tandem Flights to people looking to live the experience of paramotor. He is married with Iveyra.
Juan Carlos Correa
ELITE and 5 Stars Pilot – Luquillo PR
Named JC, is a special guy. Love the long "Cross" flights. Always have a good visualization in the way the things move in the world. He comes to the sport after have some time running motorbike with his 2 sons.
Tiza Lopez
ELITE and 4 Stars Pilot – Fajardo PR
Luis "Tiza" López, excellent gentlemen, started in the sport by May/2012. Tiza have a big family and a lot of responsibilities in his work. But when he have free time always comes to fly with us. Lives in Fajardo.
Michael Diaz
ELITE and 5 Star Pilot – Juncos PR
Michael is a Character guy. He is always looking to help everyone. Has a lot of knowledge and experience in other sports. He started his career in March 2018. And right now have some interesting Cross Flights with the Team. He use an SkyMax Corsair BD Paramotor and a Apco Lift EZ.
Nixon Porrata
ELITE and 5 Stars Pilot – San German PR
Nixon started in the sport in February/2008. He has some notables National Records as the most altitude achieve in a paramotor. 13,131 ft made in 2015 in Ceiba.
Omar Roman
ELITE and 5 Stars Pilot – Barceloneta PR
Started in the Sport by May/2015. He is a quiet character but very active in our activities as a Team. Also one of the more skilled pilots, and love the long distance flights.
Pablo Cruz
ELITE and 5 Stars Pilot – Hatillo PR
Pablo, one of the Veteran of the Team. Started in the Sport by December/2006. As you could imagine, a lot of histories and adventures to tell. He is married with Millie Ramos, also very active in Teams activities.
Rafa Guerrero
ELITE and 5 Stars Pilot – Guaynabo PR
Rafa arrived to the Sport in November 2009. A great gentlemen. He has some good stories in the sport, as the one that he tried to cross the island and gets empty of gas, landing in Coamo. He lives in Guaynabo.
Ted Sowinski
ELITE and 3 Star Pilot – Oklahoma, USA/ Aguadilla, PR
He comes to Puerto Rico at first to works with FEMA at the restoration of Puerto Rico for Hurricane Maria, then he gets in Love with the Island and now he is an Elite Member of our Team. We are honored to have a Great Human Being like Ted in our Team.
What people think about us...
Jose Mendez
Piloto Kamikaze – Poseedor de varios Records Nacionales
Looking for Equipment/Parts? 👉👉👉
Team Kamikazes News (Blog)
👉News and Stories...👈
During the past few days the wind projections indicated that it would not be possible to fly this weekend. But a notification from Juan Carlos Correa that he was going to fly in Luquillo near his home, raised a flag for us and we made plans to accompany him. For the highest level pilots it Read more about Saturday, August 08, 2020[…]
Of those days that arise without planning, today was a great day for Paramotor sports on the island. We started by indicating that we did this activity today Thursday (Weekday) in Isabela since it was the best day that looked like in terms of the weather. Several students had come to Isabela last Monday afternoon Read more about Thursday, August 06, 2020[…]
Previous
Next