Monday, May 09, 2022…
After the recess on Mother's Day of Sunday, we gets back to the adventure on Monday. We had the best weather in weeks for flying all day. Light winds entering from North without any cloud in the horizon. This was enjoyed by Ivan Torres flying at the Cliff of Isabela without Motor.
At Villa Pesquera were Ben Doyle, Ted Sowinski and Luis Ruiz making a cross fly round trip to the Guajataca Tunnel in Quebradillas.
In the meantime, Edgardo Rivera was flying in Machos Beach in Ceiba, again with an spectacular weather.
Tuesday, May 10, 2022…
This time it met at Isabela with new friends from Trujillo Alto and Florida, USA. The weather was good, so we had to take advantage of the opportunity.
Pilots from the Team Kamikazes family present, Luis Ruiz, his son Ian Darrell, Ben Doyle, Ted Sowinski and Angelo Ávila.
Living the Experience of Flying…
Juan Eli and his wife Yanira from Trujillo Alto Janialis, Sally, Astrid, Alexis and Christopher from Miami, Florida.
Luis Ruiz and Ian Darrell were in charge of carrying out the Demo flights. The big challenge of the day was Christopher, who was around 260 pounds and early in the morning the wind was light so we weren't even going to attempt his flight.
It turned out that as other flights were made, the wind increased in intensity and the opportunity of Christopher's flight was finally a reality with the pilot Ian Darrell 💪.
Ben and Ted were flying around and were followed by pilot/student Angelo Avila. Who during the morning of today made his second "Solo" flight. Again his takeoff and landings were excellent 💪.
The prevailing Hot weather made us to finish the activity at around mid day 😓
Photos…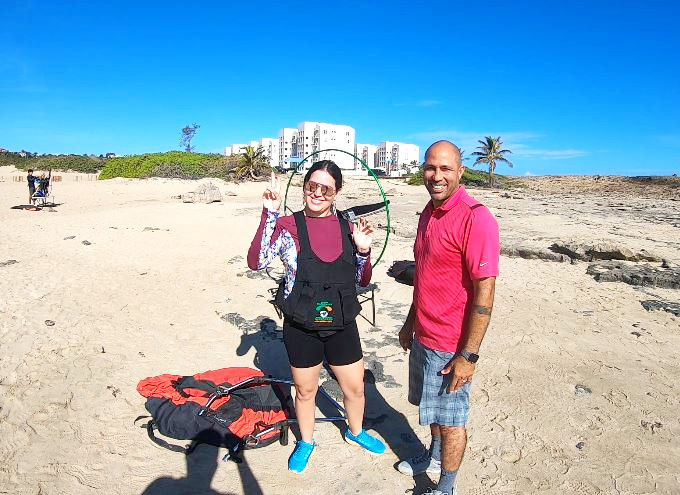 Thursday, May 12, 2022…
The Good Weather window for flying Ended, and it gets very Windy again for all island… This time the Pilots Edgardo Rivera, Omar Colon and Ray Malave met in the Beach of Loiza. They expect that the intensity of the wind gets down a bit to do some flights. But that was not the case. The wind intensity were at over 20 mph+, but anyway they're looking for fly.. Here we present 2 videos that best represent the adventures of the 3 pilots there…😎
Please follow and like us: