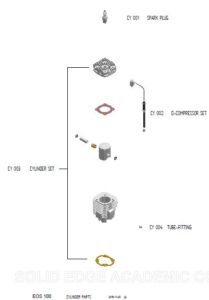 CYLINDER ASSY

PART NUMBER

PART DESCRIPTION

PRICE

CY 001

SPARK PLUG

$5.00

CY 002

DE-COMPRESSOR – SET

$115.00

CY 003

CYLINDER SET

$495.00

CY 004

TUBE FITTING

6.00

CY 005

CYLINDER GASKET SET

25.00

CY 006

PISTON

$120.00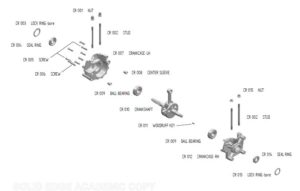 | | | |
| --- | --- | --- |
| PART NUMBER | PART DESCRIPTION | PRICE |
| CR 001 | HEXAGON NUT | $7.50 |
| CR 002 | STUD | $6.00 |
| CR 003 | LOCKING RING (bore) | $4.50 |
| CR 004 | SEAL RING | $15.00 |
| CR 005 | CYLINDER SCREW | $3.00 |
| CR 006 | CYLINDER SCREW | $3.00 |
| CR 007 | CRANKCASE – LH | $365.00 |
| CR 008 | CENTER SLEEVE | $3.00 |
| CR 009 | BALL BEARING | $30.00 |
| CR 010 | CRANKSHAFT | $245.00 |
| CR 011 | WOODRUFF KAY | $5.00 |
| CR 012 | CRANKCASE – RH | $365.00 |
| CR 013 | LOCKING RING (bore) | $4.50 |
| CR 014 | SEAL RING | $15.00 |
| CR 015 | HEXAGON NUT | $5.00 |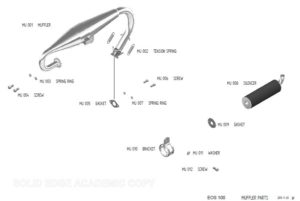 | | | |
| --- | --- | --- |
| PART NUMBER | PART DESCRITION | PRICE |
| MU 001 | MUFFLER | $395.00 |
| MU 002 | TENSION SPRING | $20.00 |
| MU 003 | SPRING RING | $3.00 |
| MU 004 | CYLINDER SCREW | $3.00 |
| MU 005 | GASKET | $12.00 |
| MU 006 | CYLINDER SCREW | $3.00 |
| MU 007 | LOCKING SPRING | $3.00 |
| MU 008 | SILENCER | $155.00 |
| MU 009 | GASKET | $20.00 |
| MU 010 | BRACKET | $38.00 |
| MU 011 | WASHER | $3.00 |
| MU 012 | CYLINDER SCREW | $7.00 |
| MU 013 | EXHAUST ASSY | $585.00 |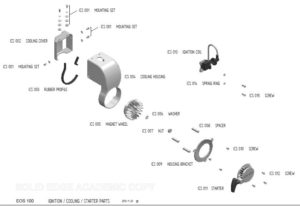 | | | |
| --- | --- | --- |
| PART NUMBER | PART DESCRIPTION | PRICE |
| ICS 001 | MOUNTING SET | $65.00 |
| ICS 002 | COOLING COVER | $125.00 |
| ICS 003 | RUBBER PROFILE | $15.00 |
| ICS 004 | COOLING HOUSING | $265.00 |
| ICS 005 | MAGNET WHEEL | $65.00 |
| ICS 006 | WASHER | $5.00 |
| ICS 007 | HEXAGON NUT | $6.50 |
| ICS 008 | SPACER | $22.00 |
| ICS 009 | HOUSING BRACKET | $145.00 |
| ICS 010 | COUNTER SUNK SCREW | $3.00 |
| ICS 011 | STARTER | $125.00 |
| ICS 011A | STARTER NEW | $185.00 |
| ICS 012 | CYLINDER SCREW | $3.00 |
| ICS 013 | IGNITION COIL | $55.00 |
| ICS 014 | SPRING RING | $3.00 |
| ICS 015 | CYLINGR SCREW | $4.00 |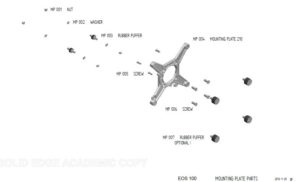 | | | |
| --- | --- | --- |
| PART NUMBER | PART DESCRITION | PRICE |
| MP 001 | NUT | $5.00 |
| MP 002 | WASHER | $3.00 |
| MP 003 | RUBBER PUFFER | $22.00 |
| MP 004 | MOUNTING PLATE | $415.00 |
| MP 005 | SCREW | $3.00 |
| MP 006 | SCREW | $4.00 |
| MP 007 | RUBBER PUFFER | $22.00 |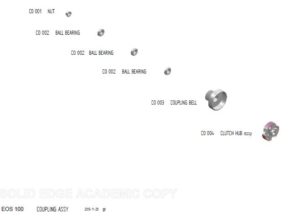 | | | |
| --- | --- | --- |
| PART NUMBER | PART DESCRIPTION | PRICE |
| CO 001 | NUT | $25.00 |
| CO 002 | BALL BEARING | $15.00 |
| CO 003 | COUPLING BELL | $165.00 |
| CO 004 | CLUCHT HUB ASSY | $155.00 |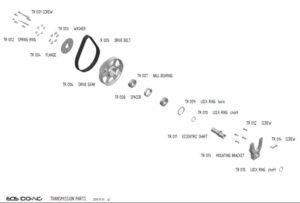 | | | |
| --- | --- | --- |
| PART NUMBER | PART DESCRIPTION | PRICE |
| TR 001 | CYLINDER SCREW | $7.50 |
| TR 002 | SPRING RING | $4.00 |
| TR 003 | WASHER | $2.00 |
| TR 004 | FLANGE | $75.00 |
| TR 005 | DRIVE BELT (Micro V – Belt) | $65.00 |
| TR 006 | DRIVE GEAR | $280.00 |
| TR 007 | BALL BEARING | $15.00 |
| TR 008 | SPACER | $20.00 |
| TR 009 | LOOK RING (Bore) | $7.00 |
| TR 010 | LOOK RING (Shaft) | $7.00 |
| TR 011 | ECENTRIC SHAFT | $75.00 |
| TR 012 | COUNTER SUNK SCREW | $3.00 |
| TR 013 | MOUNTING BRACKET | $185.00 |
| TR 014 | CYLINDER SCREW | $3.00 |
| TR 015 | LOOK RING (Shaft) | $5.00 |
| TR 016 | PROPELLER CENTRIC HUB | $40.00 |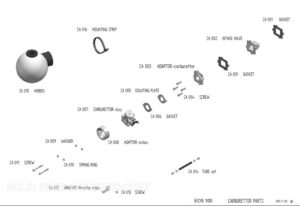 | | | |
| --- | --- | --- |
| PART NUMBER | PART DESCRIPTION | PRICE |
| CA 001 | GASKET | $8.00 |
| CA 002 | INTAKE VALVE | $85.00 |
| CA 003 | ADAPTOR – Carburetor | $100.00 |
| CA 004 | COUNTER SUNK SCREW | $3.00 |
| CA 005 | ISOLATING PLATE | $45.00 |
| CA 006 | GASKET – Carburetor | $5.00 |
| CA 007 | CARBURETOR ASSY | $300.00 |
| CA 008 | ADAPTOR – Airbox | $20.00 |
| CA 009 | WASHER | $2.00 |
| CA 010 | SPRING WASHER | $2.00 |
| CA 011 | CYLINDER SCREW | $4.00 |
| CA 012 | BRACKET – Throttle Cable | $22.00 |
| CA 013 | FLAT HEADED SCREW | $1.50 |
| CA 014 | TUBE – Set | $18.00 |
| CA 015 | AIRBOX | $145.00 |
| CA 015 B | AIRBOX – Black | $150.00 |
| CA 016 | MOUNTING STRIP | $2.50 |
Note for Buying:

1) Some of this parts are not in Stock, we export them direct from EOS Factory in 
Austria, usually takes a week to deliver. For buying, please Copy the Codes of Parts and 
Consult with Luis Ruiz, (787)717-2384, for availability. As always, some discount apply 
for Team Kamikazes pilots.

2) In order of more than $300 we cover the shipping prices. Below $300 the Customer pay 
the shipping from Italy.