We started the morning with pleasant weather for the island and we went to the area of ​​Villa Pesquera de Isabela to carry out activities.
Kamikaze Pilots Present…
Charles Riggs, his wife Andrea, and sons Evan and Ava
Ben Doyle and his wife Andrea
Mario Muñiz and his wife Ivonne
Luis Ruiz
Manuel "Manny" Martinez (New Student)
Living the Experience…
José and Magali, visiting from Philadelphia
Juan Carlos and Jahaira Figueroa from Hatillo
In the morning we took advantage of the good conditions to work on Ava's training sessions, while her brother Evan and father Charles flying around. The new student "Manny" Martínez, a native of Camuy, also began training. Part of the practice and flight theory was covered and the excellent weather was used to start kiting the paragliding in Front Launch method.
Although the conditions were good, they were also HOT. And this was taking its toll on the students. In that situation was Mario who was also kiting.
As for the people who came to live their experiences. Ben began by flying with Andrea Riggs, Charles's wife. She had always comes to the activities to accompany her family and continually watched Charles and Evan's flights. This time she had the opportunity of appreciate the view of Isabela from the air. She was very excited and grateful for her experience 💪.
Also flying were Magali and José, who reside in Philadelphia and were visiting the island. Also, and celebrating her birthday was Jahaira Figueroa who arrived with her husband Juan Carlos. And they both had their experiences, and as Jahaira said, much better and more satisfying than expected 💪.
👉Juan Carlos and Jahaira flying together and Close👈
Here we present a Video, and photos of the day's activity. Blessings 🙏!!!
Photos…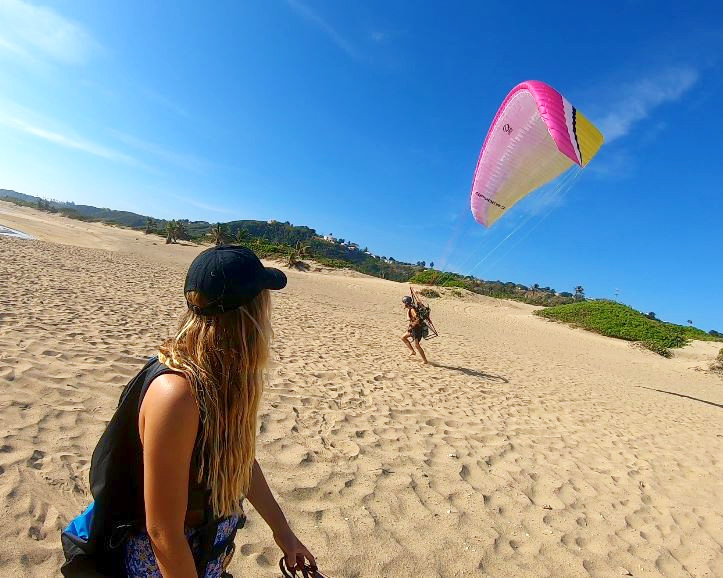 Please follow and like us: