Yesterday was an intense day, but we still had excellent weather conditions and desire to fly. Luis Ruiz returned to Villa Pesquera of Isabela to make tandem fly to people looking to live the experience in the paramotor. He was accompanied by his wife Jessica and son Noah Enrique. Also presents were, Eduardo Pabon and his wife Esther, Pablo Cruz and his wife Millie , Michael Diaz and his father Papo, Omar Román, Alex Diaz and his wife Belén, and  general public who came to share the beach and our activities. One of the Tandem flights were made to Papo, Michael's father, who was amazed with the experience.
During the weekend, Luis made a total of nine (9) Tandem flights. In the meantime, Eduardo, Omar, Pablo and Michael were flying around continuously enjoying the great weather. Beside, Alex was there, but still has discomfort in his shoulder and has not been able to fly or practice as wished. We hope to have him back in the air soon.
Before we ended the activity, we give the "Cross Country" medal to Eduardo, we could not had the opportunity to give him yesterday. Also, Michael, that thanks to his recent flights, has risen to 3 stars in his level of flying in Puerto Rico. Congratulations!
It is expected that good flight conditions will continue in the coming weeks and with God favor, we will have many more stories to tell.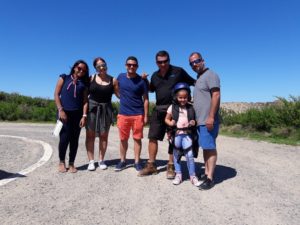 Please follow and like us: