Training day for new students of Team Kamikazes Paramotor Puerto Rico. We went to Villa Pesquera Isabela and as planned we had ideal wind conditions to fly and practice all morning…, what we did not expected was the huge swell along all the North Coast. This is product of Hurricane "Epsilon" that was active at the north Atlantic Ocean of the island.
The students, Rubén Torres, Luis Daniel Ayala, Dave Hargett, along with pilots Alberto Sabah, Sammy Badillo, Instructor Luis Ruiz with his wife Jessica and little Noah Enrique, arrived at the activity early on.
Rubén, Dave and Luis Daniel, were practicing paragliding control all morning and from time to time they had to stop the activity and even run with the paraglider in hand, when huge waves made the water reach where they were located 😲. Luis even had to rescue a "Light Clinch Bag" that was swept away by the current …
Alberto and Sammy were helping the students and Sammy even took a short flight around. Each fly that he make is safer and more enjoyable. Around noon Noah arrived to the practice joining the rest of the students. So, Luis had a hard time pushing Noah to his small limits 💪.
It was a very well spent day (despite the huge swell). Dave may attempt his first "solo" flight this Saturday. We think he is ready to this step, Stay Tuned… Beside, Luis Daniel and Rubén continue their progress on track to try their first "solo" flights very soon….
Here are some photos of the activity …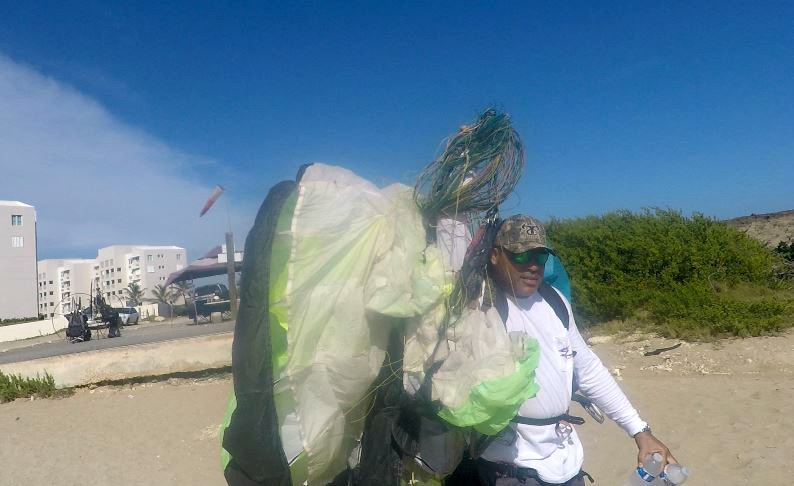 Please follow and like us: