That was a very special day!!!! Not every day we have the opportunity for two students of the Team to make their first "solo" flights and more when one of them is a kid of barely 12 years old 😲💪!!!
But let's go on part… We were carrying out our activity in the traditional Parque del Norte Hatillo. We were there since early in the morning preparing the equipment …
Pablo Cruz and his wife Millie
Luis Ruiz, his wife Jessica and children Ian Darrell (with GF Paola) and Noah Enrique
Ricardo González and his wife Ermelinda
Chelo Meléndez and her son Marcos
Dave Hargett, his wife Mariela and daughter
Ariel Rodríguez and her grandson Derick Castro
Noel Vale and his wife Tata
Eric Roman
Eric Harthman
Sammy Badillo
Alberto Sabah
Eric Betancourt (Possible New Student)
José Rodríguez (Possible new student)
The morning started with excellent weather conditions, and all the students went to practice with the paragliders. There were, Ariel, Derick (with Luis's Apco F1 with the intention of flying it later), Eric Román, Eric Harthman, Chelo, Marcos and Dave. All of them being assisted by Pablo and Luis.
Instructor Luis Ruiz today had the task of giving the green light for flying to Marcos and Dave. Both are showing to be ready to try their flights. The first to attempt his flight was Dave. A week ago, this flight attempt had to be postponed in Isabela since the intensity of the winds was too strong to attempt it. So we took advantage of it that day to made some short flights to him by the "Towing" method. Today was apparently the day …🙏
After some practice with the paraglider, we decided to try it and as expected, Dave went flying on his first attempt 💪!!! He was flying for about an hour … His first words were "unbelievable" !!! Hopefully this is the first of many more flights. Congratulations!!!!
Then it was Marcos' turn. He had tried to fly in past activities, but on those occasions he still faced problems with the weight of the Paramotor and we had to abort the attempts. This time he was going to try with the ultra-light SkyMax Expedition EOS100 Paramotor that barely weighs 36 pounds and next to it the Apco NRG PRO 18.5 meter paraglider, which would make its inflation and preparation demand less physical strength. This coupled with the fact that Marcos in the past weeks had prepared himself physically, it was the correct formula for success …
After the rigorous practices, and the instructions of Luis, Marcos take off in his first attempt !!!!, and with this he establishes a national record as the youngest pilot (12 years old) to fly a Paramotor in Puerto Rico💪💪💪. It was flying for about an hour, and its landing was also a very good one. The joy of his father Chelo and the entire "Kamikaze" family was palpable. Let there be many more healthy flights. Congratulations!!!!
So from here we go to another young kid from Team, Derick. He continues to progress by leaps and bounds, and this time he had set his goal to fly Luis's high-performance paraglider, the Apco "F1". For that, in the previous weeks he had already flown some good "performance" gliders and today was the day for the "F1". After morning rigorous practices, Derick took off with the F1, and not only once, but also made two flights of more than an hour in duration each one. Now, Luis begins to worry that he has lost his glider with Derick….🙄
While all this was happening, Alberto, Pablo, Sammy, Ian, Ariel and Luis accompanied the rookie pilots in the air. It was nice to see Alberto finally master his landings in comfort….
👉Some scenes on the field with Alberto Sabah and Dave Hargett👈
In the case of Luis, he took some of his time to probe his new "all day" paraglider… a Brand new BGD Luna 2, that as he expected, excel in the performance and feeling in the air. Beside, the colors are very radical… Here a video taken by a friend, Ramon Mercado, with his drone, while Luis was flying the Coast of Camuy…
In the afternoon, Ian Darrell, after some personal flights, gets the opportunity to try the trainer glider BGD Seed in very high winds conditions. Look for yourself in next videos, his abilities. Amazing…
We also had the visit of possible students José Rodríguez and Eric Betancourt who shared with us and have yet to start their training sessions soon. Let's see how it goes with them in future meetings …
Also, for the next few weeks we will be working with students Eric Román and Eric Harthman who are already quite prepared to try their first "solo" flights. Stay Tuned …🙂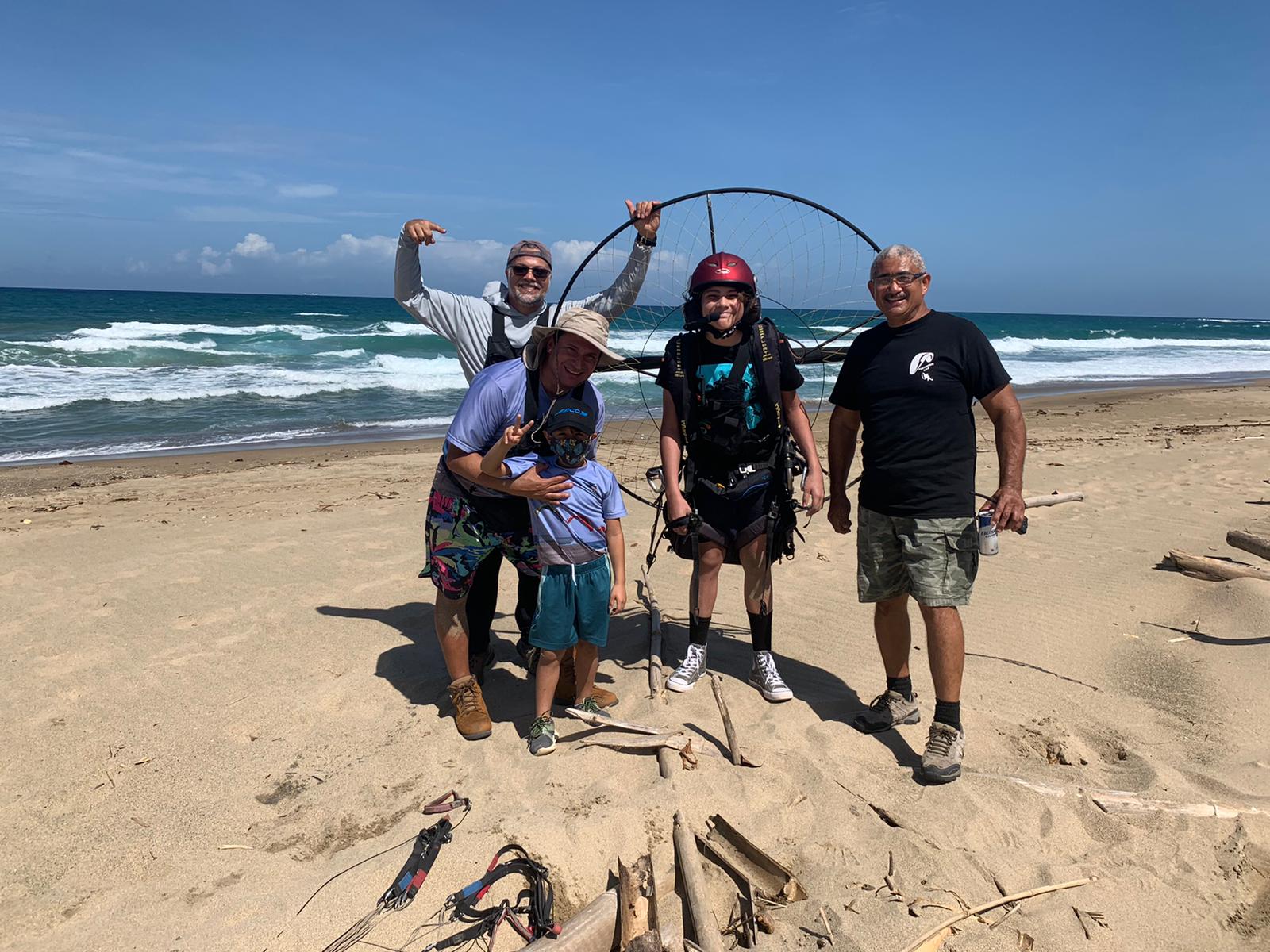 Please follow and like us: