Spectacular Sunday in Villa Pesquera Isabela. Good weather to fly and we knew it. From early the Kamikaze family started to arrive from all over the island 🙂…
Kamikazes Present…
Pablo Cruz and his wife Millie
Hermes Ferrer, his wife Neisha and daughter Katelyn
Ricardo González and his wife Ermelinda
Brothers Samuel and Adam Travis
Edgardo Rivera and his wife Wilnelia
Luis Ruiz, his wife Jessica and children Ian Darrell (with his girlfriend Paola) and Noah Enrique
Luisito Lopez and Family
Jose Luis Hernandez
Sammy Badillo
Omar Colon
Roger Huff (International Pilot)
Possible students that arrived to enjoy their flight experience…
Lis Marie Castillo and her sister from Camuy
Gian Carlos and his sister Cristal
Crismery Sierra and Clara Inés from Hatillo and Camuy
Kyara and Neisha from Arroyo
Xavier Hernández, his father Luis and relatives from Arecibo and Isabela
María Rivera, overcoming challenges (details later)
Elia González, possible new Team student
Kathy and family from USA and now based in Quebradillas
and several more people….
The morning started very active. Luis Ruiz, assisted by Ian Darrell, were making the Demo flights in case the weather got bad late in the day. Once again, many people were able to enjoy the experience of paramotor flight and some of them ended up with the commitment to take another step and start taking classes to fly by themselves 💪.
They came from places as distant as Arroyo, and they all come with the idea of ​​enjoying and living an unforgettable moment. In the case of María Rivera, she had come to overcome personal challenges that for many people would prevent them from making the flight, since her mobility was very limited. Luis managed to make the flight with Maria being directly helped by Pablo. At the end, after some special preparation, Maria managed to fulfill her dream of flying. Blessings 🙏!!!! and that's what it's about …
As for the pilots, today, Samuel, Adam, Omar, Sammy, Pablo, Hermes and Edgardo were present. All flying a lot in the morning. International pilot Roger Huff was also arriving with his family. He preferred that his nephew take a Demo flight instead of him to go out to fly.
As a notable part of the activities, today Instructor Luis Ruiz began training Samuel and Adam so that they will eventually become Tandem Flight Instructors and help with the school. There are many details to cover, but today was the first step for them. At some point, Samuel took his brother Adam to fly with him! We will continue later with the progress of both.
Another who also arrived and was very active was the student José Luis Hernández, who was practicing hard. Pablo and Hermes were with him in the direct assistance. Ricardo join them in the practice of the paraglider.
At around 3 PM, we finished the flight activity since the weather had damaged with some amazing clouds that cover the area. Then, some of the members of the Kamikazes family had other ideas instead to go home. It turns out that Hermes and Neisha invited everyone to their home in Isabela to prepare a shrimp and chicken soup.
After some minutes, we moved to Hermes's House and continued the activity with food and snacks there. Some of the pilots keep there after sunset. At one point, Omar Colon put his paraglider in the middle of the road with the intention of going out to fly? Nah…😆
In short, another great day of healthy sharing for the Team Kamikazes family. Thanks to Hermes and Neisha for their hospitality. Very appreciated!. For everything and therefore, always thanking God for the blessings he allows us to live 🙏!
Photos…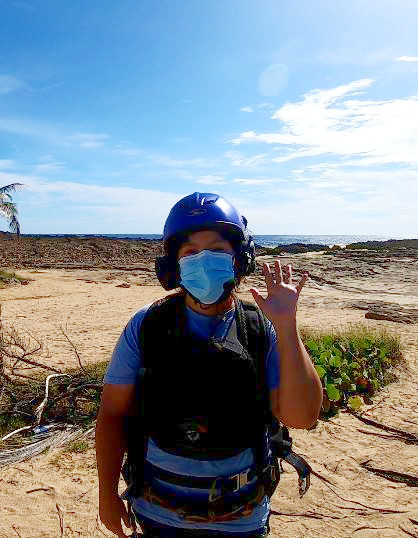 Please follow and like us: