This time we went back to Parque del Norte. Some weeks passed before our last visit. The weather was very good to fly and practice all day. And without much planning we had some great stories on the day 💪.
But we go by part, first we indicate the pilots and relatives of Team Kamikazes present in the activity….
Pablo Cruz and his wife Millie
Edgardo Rivera and his wife Wilnelia
Luis Ruiz and his son Ian Darrell
Noel Vale and his wife Tata
Jose Roman
Mario Muniz
Sammy Badillo
We had commented to him in the past stories that José Román had rejoined the group after almost 10 years of being retired doing other things in his life. Today after having been practicing in the past days, and now with his own Paramotor and paraglider (SkyMax Star Moster MY20 and Apco Thrust V), it was his turn to fly 🙏…
Assisted by Luis and Pablo in his first takeoff, José, not only took off and landed well, but he did it a couple of times and was very comfortable with his experiences. He was accompanied in the air by Edgardo (flying the SkyMax EOS100) and by Sammy Badillo, and Pablo himself. Congratulations 💪!!! Hope this is the first of much more!!!.
For his part, Mario, was putting the finishing touches to his practices on the way to trying his first "solo" flight tomorrow, we will keep you informed of his progress 🙏…
Luis Ruiz and Ian Darrell, also made several Demo flights to people who came from all over the island and even from abroad to enjoy their experiences. We could count at Pedro who resides in El Salvador, Yarelis Fuentes from Carolina, Carmen Hance from Jayuya, Raquel from San Juan, Sullyvette Ambert from Toa Alta, Milagros Resto from Rio Grande and Emily Cruz from Toa Baja.
Also, some special moments arise in the morning. As Heidy comes with the little kid Adrian, who always was pending of visit us. He always looks us from their house in Camuy, and finally we met him in Parque del Norte. That was a special moment for Adrian…. 🙏
Adding to that, I want to comment that myself, Luis Ruiz and the Team Kamikazes family, started this Paragliding and Paramotor journey, 20 years ago. A lot of good and great stories rise from time to time. And a lot of special people comes to us in this journey. We feel blessed because we could show a different perspective of Life to the people through the feeling of Fly. Here is a audio that we want to share with you from Carmen Hance, prior to her fly with us in Hatillo. We feel humble and Blessed, more than anything is our Legacy, God Bless 🙏!
All taking a great experience while flying along the coast of the towns of Hatillo and Camuy. Here we leave some photos and the Video that best describe what was experienced during the day.
At last, and very important too, the Kamikaze Pilot, Omar Colon, was flying in the day at Luquillo Beach, where he was helping in a party where a "color" of a gender of a future baby was spread in the air by him. He successfully made the fly although some difficult weather. And was a success! Congratulations.
As always we thank God for all these opportunities that he allows us to live. Blessings 🙏 !!!!
Photos…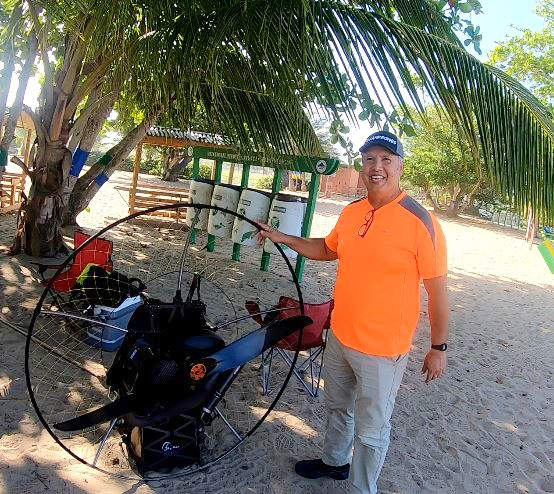 Please follow and like us: