Monday, December 06
Finally, after months of absence, Instructor David Garber and his wife Amara arrived on the island again. David comes to help Instructor Luis Ruiz with the school, his new students and with Demo Flights. Since they were approaching the international Airport BQN, Hermes Ferrer was monitoring in his Radar.
After that, Luis pick up them and goes to his Home. In the road, they had a blew tire. So, the arrival to Luis Home was not easy. David, pick some parts in the House that were previously sent in order to have all the Toys ready for Action. Finally, we decide to start with the right foot, and we took David and Amara for a dinner at restaurant 💪!!!
Tuesday, December 07
Team Kamikazes started the flight activities with David Garber, early in the morning in Villa Pesquera Isabela. To the surprise of Luis, upon his arrival at 8 AM, he found that David had already been flying for an hour, along with Darwin Hernández. who again arrived in Puerto Rico at dawn. He would spend the morning flying, and at about 1 PM, he would get back on a plane back to the USA 😲…, David was impress with the skills of Darwin, at which he met some months ago as a student of the School.
We also have the visit of Daisy Seize, a longtime friend of Luis Ruiz, who brought some friends from Texas, Beatriz (on her birthday) and her husband Tony to enjoy the flight experience. They had a great time as you can see in the Video!!!.
Thursday, December 09
Again in Villa Pesquera Isabela. This time starting the Training of new student Cerbulo Concepción came from Fajardo. He reside in Orlando, Florida.
Charles Riggs also arrived with his son Evan with the intention of flying, as did David and Amara, also Ian Darrell also arrived with his girlfriend Paola and his brother Noah Enrique. The weather was active, some flights could be made, but it was difficult.
David, started the morning with a challenge… Do a Demo Fly to Gerardo, who came from Bayamon. Turns out, that Gerardo was 6ft 5in tall, and weighting 270 pounds. A big challenge for David. But at least with the correct wind intensity to do it. After taken all the measure to realize his fly, they manage to fly, and Gerardo was very happy with the experience.
At one point in the morning, the intensity of the winds dropped a lot. So, Cerbulo and little Noah take the chance for practicing with the paragliders. Cerbulo, surprised us all with his physical strength and abilities. He spent the whole morning practicing, and for his first day it was quite impressive 💪.
At mid day, were arriving, Ricardo from Villalba arrived with his friend Debbie, who reside in Idaho, USA. She came to do her Demo Flight, and it was done by David. It was that good that Debbie was already looking for information on where to do this activity in Idaho. We left the place to enjoy a lunch with Luis family, is Jessica's Birthday, and we need to celebrate it 💪 .
As always we thank God for these opportunities that he allows us to live 🙏.
Photos…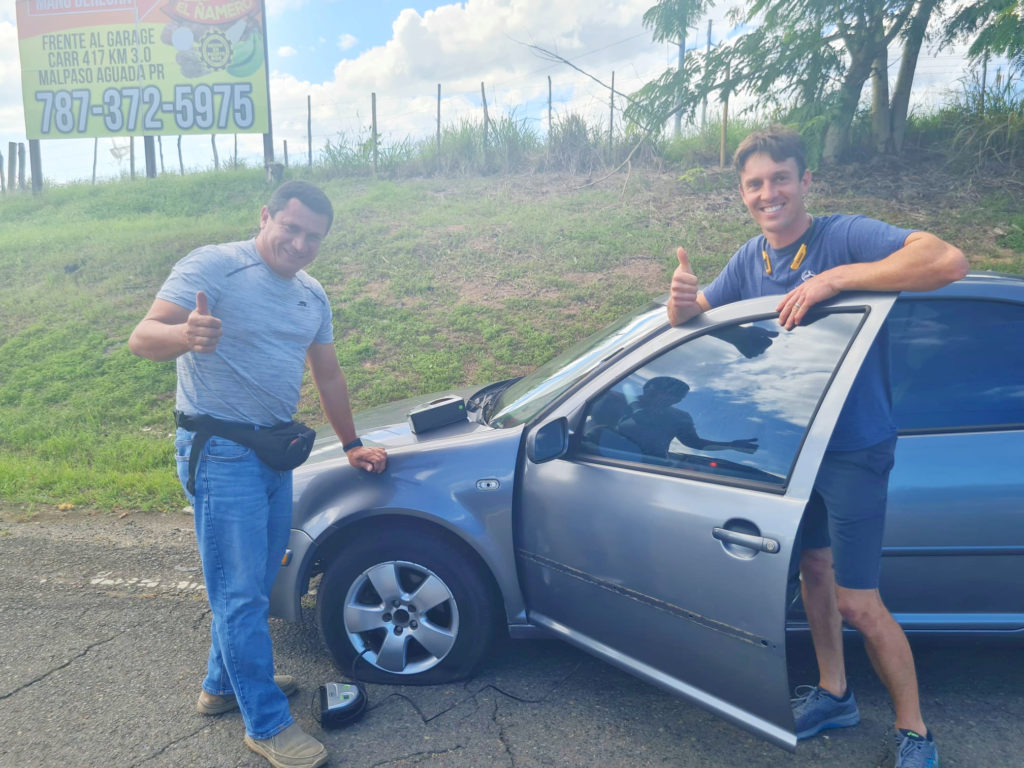 Please follow and like us: