The recipe for the weekend, Parque del Norte in Hatillo, excellent weather and many pilots saying present … With this recipe many stories come out and the day becomes an epic one!. Therefore, there is much to tell, but we go in part …
First, we mention the people who were present to fly and / or simply share with Team Kamikazes Paramotor Puerto Rico …
Pablo Cruz and his wife Millie
Ariel Rodríguez, his daughter Kuki Doris, his son-in-law Luis Rojas and grandsons Darielis and the pilot Derick Castro
Omar Colon and his daughters Mia and Farah
Gregory Santiago
Danis Rodriguez
Ruben Torres
Omar Roman
Rafa Guerrero
Luis Ruiz
Jorge Martínez (Possible Student)
Ibrahim Mustapha and his wife Ana María (Possible Students)
In the morning, we arrived and saw that the storm surge that had hit the coast during the week had already dissipated. He had even left us a good area to practice our sport.
The first to arrive and who got ready to fly were Ariel and his grandson Derick. In the meantime, Luis Ruiz was giving early instructing to Rubén on paragliding control as part of his training. This time, Ariel would fly first, since Derick, once he is flying, does not want to land, which caused long waits for Ariel to make his flight, 🙂. Not only that, but Ariel works best with few prompts and without a lot of people around her. So imagine that his launch this time was a success💪.
Little by little the rest of the pilots, once they arrived, going to fly. Pablo was one who had been flying around a lot, as were Omar Román, Omar Colon, Gregory, Danis and Derick (once Ariel landed). Luis and Rafa also joined them in the afternoon.
In the case of Luis, he was giving instruction flights to the possible students of the Team, Jorge Martínez, who comes from the sport of skydiving, and to Ana María, who is a Kite Surfing runner with his wife Ibrahim, who is also interested. Both very happy with their experiences and already looking for a way to fully enter the sport.
Also, there was a very special flight, and that is that Luis took to fly the young girl Darielis, just 9 years old, who is Derick's sister. This fly was very emotional, especially for her grandfather Ariel, and her mother Kuki, to see her two children flying 😲🙏!!!
In the afternoon, Omar Colon went out to fly, this time with a more sporty paraglider (Apco Lift EZ R) and was accompanied on a Cross flight in the direction of Sardinera Beach Hatillo by Luis, Omar Román, Gregory and Derick. This time with the rise in intensity of winds and the turbulence associated with it, when passing the rock near Sardinera Beach, both Derick and Omar Colon discovered what turbulence is… It was very good learning for both 🙄.
In Dani's case, he had some unexpected problems with his Paramotor carburetor while flying AM, and once adjusted by Gregory, he decided to stay flying but near the Park, while he enjoyed and practiced his skills.
Rafa Guerrero arrived in the afternoon, and there he was, taking his flight around the area and sharing with the rest of the pilots that began to fold their equipment after a great day of flights.
With the executions of this weekend, the pilots Ariel Rodriguez, Omar Colon and Derick Castro earn their second Star in their Level of flights. Congratulations 💪💪💪!!!!. Here we present some photos and videos that best describe what was experienced this day in Hatillo. As always we thank God for these opportunities that he allows us to live 🙏.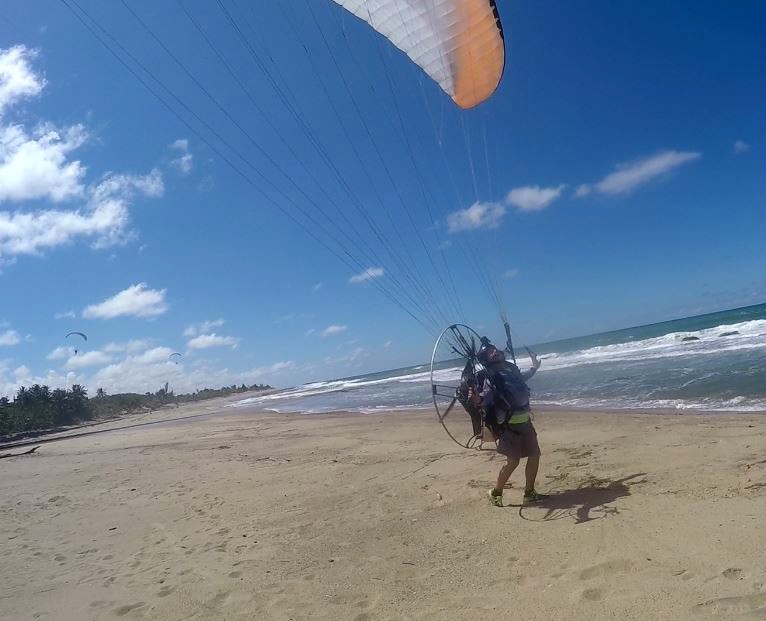 Please follow and like us: