We returned to the Parque del Norte Hatillo. Again with good conditions to fly early in the morning and this time turning, very windy in the afternoon. And yet, we still fly … But we go in parts 😉.
Pilots and family of Team Kamikazes present …
Pablo Cruz and his wife Millie
Robert Rodríguez and his wife Elba
Edgardo Rivera and his wife Wilnelia
Luis Ruiz, his wife Jessica and children Ian Darrell (with his girlfriend Paola) and Noah Enrique
Omar Colon and his daughters Mia and Farah, in addition to his sister and aunt
Ricardo González and his wife Ermelinda
Brothers Samuel and Adam Travis
Eric Roman
Melissa Earl
Jose Luis Hernandez
In the morning the weather conditions were good. You had to take advantage of it in these days. Luis Ruiz and Ian Darrell had their hands full with several people who attended to enjoy the Demo fly experience in the Paramotor. Zoraida Rivera, her daughter Gabriela and friend Yarianis were present. Also, Jayleen and Dariel were also other people who took advantage of the good conditions to go flying. All very happy with their flight experiences as you could see in photos and Video 🙏. Other people were pending, but, at around 11:30 AM the conditions became very windy and Luis decided to stop the Demo Flights activities 🙄.
While this was happening with Luis and Ian, the rookie pilots Edgardo Rivera and Ricardo Gonzalez went flying. Both with excellent takeoffs and landings and were flying for almost an hour in the surroundings area. In Ricardo's case, he had not flown for several months for different situations. But a change in Paragliding and Paramotor made him look like a professional throughout all his flight. Inclusive he was flying at over 1,000 ft. His joy, and the joy of his wife Ermelinda was evident and "Priceless". God Bless ❤️!!!
In the case of Samuel Travis, he came flying all the way from Isabela, despite the strong wind. His brother Adam was giving support and arrived by land. When the winds pick up to an intensity of over 20 mph +, only skilled pilots like Omar, Samuel, Adam, Ian and Luis were flying. All showing how this sport has evolved. A few years ago it was practically impossible to fly the Paramotor in conditions of over 20 mph +, and now with the correct equipment and experienced pilots. This is just one more day of flight and great enjoyment. At the Team Kamikazes school, we push (if possible) that each of our students / pilots reach this level of perfection 💪.
In fact, Samuel Travis, in a downwind flight and applying his speed bar at full speed, registered a speed of 70 mph !!! measurements on his GPS. This is a National Record, and more considering that its flight height did not exceed 500 feet in height. (At a higher altitude, more possibilities to fly in higher winds and therefore with more speed).
As for the students, Melissa was back for her second training session . She was using during the day a 14 meter BGD Seed paraglider, being assisted by Pablo and Luis at all times. Melissa has the ability and above all the attitude to be a great ambassador for this sport 💪. Now we just need the weather to improve to coordinate her first "solo" flights in the Paramotor. Stay Tuned…
Sunday…
As an important note, on next day, Sunday July 18. Some "Kamikazes" pilots met in Villa Pesquera Isabela. This despite the fact that the weather forecasts indicated that it would be inclusive more windy, (even more than Saturday). But, so we arrived 😜…
Saying present were the student José Luis Hernández, Edgardo Rivera, the brothers Samuel and Adam Travis and Luis Ruiz.
At around 7:30 AM, Edgardo started practicing on ground with the BGD Seed Paraglider. Samuel and Adam took of for a fly. Their idea was to fly all the way to Quebradillas and return. But, halfway over the Royal Isabela Golf Course area, they were caught by a strong wind that only allowed them to fly at 1 to 4 mph, even occasionally using the foot speed bar 😲.
On his "quick" return to Isabela, Samuel once again hit his full speed bar, and this time he recorded a speed of 74 mph!!! on his GPS 😲💪💪💪!!! This Record will be difficult to break. So, What paraglider did Samuel use? A model from the people of Flow (of which we are distributors), the RPM 17 meters.
At around 9 AM we were on our way to our homes. As always we thank God for these life opportunities that he allows us to live. We are blessed ❤️🙏!!!
Photos…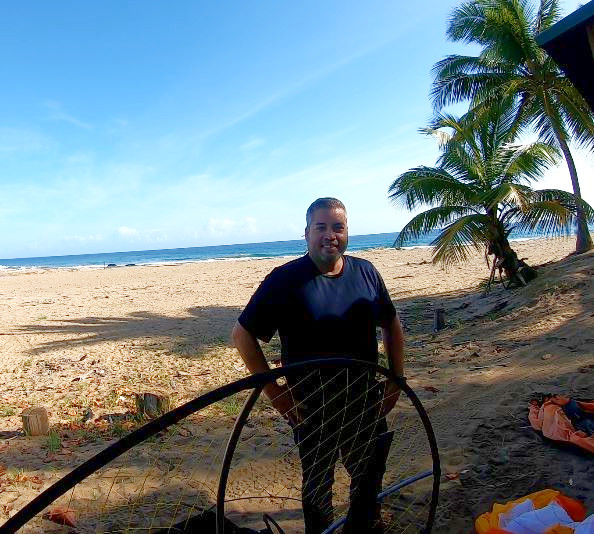 Please follow and like us: