We arrived at the birthday weekend of Instructor Luis Ruiz. An event expected by the Team Kamikazes family and as expected, it went extremely well. To that we add that the weather was very good to fly, so the formula for success was made.
For this weekend, we had the visit of the international pilot, Cappy Simon, a resident of Florida, who was both Saturday and Sunday, sharing and flying with us. In fact, he bring a surprise gift to Luis, unexpected 😊.
Together with Cappy, we had a FULL HOUSE of pilots and friends from Team Kamikazes…
David Garber and his wife Amara
Mario Muñiz, his wife Ivonne, and son Jordan and grandson Betuel
Luis Ruiz, his wife Jessica and sons Ian Darrell and Noah Enrique
Ricardo Gonzalez and his wife Ermelinda
Ray Malave and his girlfriend Marilyn
Edgardo Rivera and his wife Wilnelia
Robert Rodriguez and his wife Elba
Joaquin Alexander and his family
Hermes Ferrer his wife Neisha and daughter Katelyn
Charles Riggs, his wife and son Evan
Former pilot Ben and his wife Andrea
Cappy Simon
Alberto Sabah
Jose "Cheo" Roman
Jomar Crespo
Noel Vale
Keith Gould
Sammy Badillo
The coordination of activities was coordinated with Luis attending the school students in the morning and part of the afternoon, while David Garber and Ian Darrell were in charge of carrying out several introductory Demo flights to new friends seeking to Live the Paramotor Experience.
These activities took the whole day, and eventually in the afternoon we took a break and celebrate a small birthday activity for Luis 😊. The cake on this occasion was prepared by Ivonne. As part of the details of it, I made a decoration on it that included designs of a Buick Grand National (a car that Luis had for a long time), and some Table Tennis rackets, remembering Luis' time in competition ❤️.
Ivonne, you kicked yourself!!!!, eternally grateful. Thank you so much ❤️!!!!.
Living the Experience…
There was quite a public that came to Live their flight Experiences in the Paramotor. We can mention…
Jorge Ruiz and his son Chris who arrived from Aguada
Naomi, Julián, Zuleyka, and Wilfre from San Juan
Grace and Jose from Caguas
Jordan, son of Mario and Ivonne
Hana and Mark from Canada
All of them were attended by David and Ian, who were assisted by Amara, who was attentive to every detail. Thanks 🙏!!!
👉Formation Tandem Flights by David and Ian, Video by Cappy Simon👈
School students…
For his part, Luis Ruiz was attentive to the development of the classes of the different students of the school.
Mario Muñiz was practicing during the morning hours and a little later he made his 4th flight of his young career. All a success 💪. At some point of the afternoon, his son Jordan took a Demo flight with Ian Darrell, and was very happy with the experience. So, Mario, took Jordan for his first practice with the paraglider.
Jomar Crespo also went flying, after assisting Luis with the other students. Jomar's progress is remarkable, and you don't have to tell him much for him to fly off on his own 💪.
Keith Gould, has taken it in stride and continues to practice all the details of paragliding control on the ground. He is now ready to attempt his first "solo" flight, which we will do in the coming weeks 💪.
Ray Malave, was practicing all morning and in the afternoon it was his turn to go flying, and he did it with excellence. He made a flight of about an hour, his second in its history, and his takeoff and landing were good. He was very happy and that's what it's all about… Congratulations 💪!!!
Joaquín Alexander Cruz spent the whole morning practicing paragliding. This time with the Flow Cosmos Power 24, which if all went well would try to fly in the afternoon. It turns out that everything went well, and in the afternoon Luis gave him the Green Light to try his first solo flight, and he did it with excellence. In fact, he made two flights that day, and was in the air for more than an hour. On his second flight he had some problems with his landing, but it's part of the process. Joaquín has two flights to his credit and he will continue counting many more in the future. Congratulations 💪!!!
Robert Rodriguez, after a year of absence, is getting back to the sport. He was kitting for some hours in order to return to fly in the future.
Kamikaze Pilots…
With the arrival of Cappy to the activities, the rest of the pilots were activated and were flying around. There we counted Charles, Evan, Edgardo, Sammy, Cheo, Ricardo, Noel and later, when they completed the Demo flights joined the action, David Garber, Ian Darrell and Luis Ruiz.
At sunset there was even a formation of pilots in the air, leaded mostly by Ian, Cappy and David, which was very nice 💪.
We left there at sun set, and getting ready because tomorrow we return to Isabela and the weather continues to be very good for flying.
👉Cows were again visiting us, video by Cappy Simon👈
As always we thank God for these opportunities that allows us to live. Blessings 🙏!!!
Photos…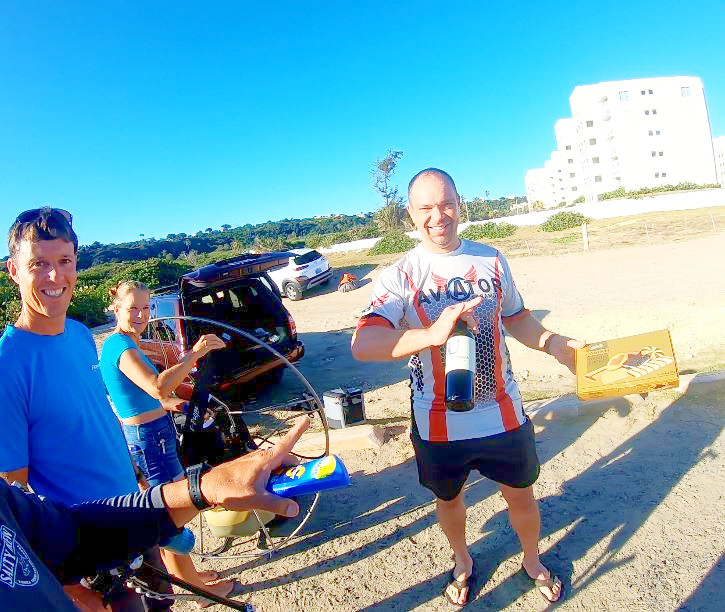 Please follow and like us: