During a traditional weekday, the weather improved. That means that several pilots who had pending their flights and had not been able to due to excessive wind, now had their chance 🙂.
This was the case for Keith Gould, who had patiently waited for this day to attempt his first "solo" flight. But, we talk about this later.
Kamikaze pilots present at the activity, (not bad for a Friday…)
David Garber and his wife Amara
Keith Gould and his girlfriend Kathie
Adam Travis, his girlfriend and relatives
Ben Doyle and his wife Andrea
Luis Ruiz
Sammy Badillo
Alberto Sabah
Darwin Hernandez
Mario Muniz
Edgar Rivera
Ariel Rodriguez
Tim Slauson
Jomar Crespo
Ray Malave
Keith Gould First Solo Flight and Tim Slauson Return
As we mentioned, the weather was very good. And it was well spent. Keith had been waiting for this moment for days and it had finally arrived. During the previous weeks of inclement weather, he had honed his paragliding skills on the ground. That included several "Towing" flights with the assistance of Instructor David Garber. This time, assisted by Luis Ruiz, Keith was ready to give it a try. For this, Luis provided him with a SkyMax EOS100 Paramotor with a Cosmos Power 24 paraglider. And with this combination, Keith fulfilled his dream of being able to fly. His takeoff and landing were very good, specially his launch. Congratulations 💪!!!
In the meantime Keith was flying for the first time off the coast of Isabela, his girlfriend Kathie was flying in Tandem with David Garber to fly together with Keith at that very special moment 💪. David also took the opportunity to give additional Demo flights to Dave from New Jersey, USA, and Arlene from Colorado. Also Adam performed a Demo Flight to his girlfriend. Demonstrating great control and technique in his Demo flight.
In the case of the pilot Tim Slauson, he arrived to Puerto Rico and contacted Luis to meet at Isabela today. An unexpected failure in his personal Paramotor, made Luis provide him with the SkyMax EOS100 that Keith had flown a few minutes ago. After making the necessary adjustments, Tim took off and flew off the coast of Isabela for about 45 minutes. At the time of landing he had problems with the oscillation of his glider, making his landing soft but very close to the bushes that surround the landing area. Everything went well and Tim continues to learn and perfect his technique.
Other active pilots during the day were Mario, who continues polishing his skills, Sammy, Alberto and the wing partners Edgardo and Darwin.
The Condominium Gate…
Today was the day that the "Isabela del Mar" Condominium Gate was finally restored. This had been affected by Ariel in an incident on a flight a couple of months ago. And he responsibly took on the task of restoring it. To do this, Edgardo Rivera was working hard on its reconstruction. Also notable was Sammy's contribution, putting up a temporary gate while the situation was resolved.
Finally, and with prior communication with Condominium staff, it was restored. Sammy, Mario, Alberto, Darwin, Edgardo, Jomar and Ray were attending in one way or another. Congratulations my brothers!
The "Wing Partners"
To end the day of flights, the union of Edgardo and Darwin, ended up flying at sunset in Isabela, could not be missing. Tomorrow with the favor of God we continue flying, the plans are Hatillo.
Photos…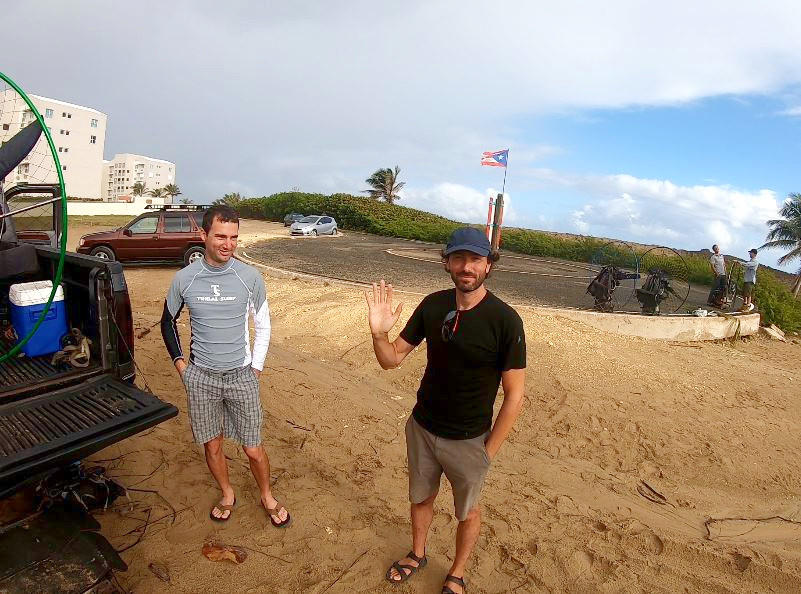 Please follow and like us: